Sports
Furious Manchester United fans storm Old Trafford hours before Liverpool Premier League match in anti-Glazer protest (VIDEOS)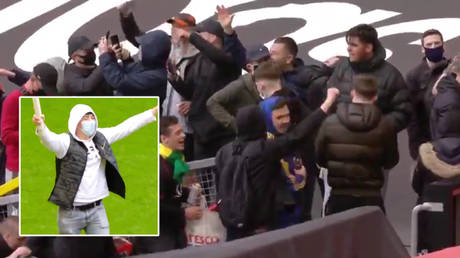 The hangover from Manchester United's involvement in the ill-fated Super League has continued after legions of angry supporters forced their way into Old Trafford hours before Sunday's game against Premier League champs Liverpool.
The protest, which has initially been planned to take place outside of Old Trafford, bled into the famous stadium on Sunday after dozens of fans upset with the ownership of the controversial Glazer family raided the pitch and threw Sunday's pivotal fixture with arch-rivals Liverpool into doubt.
It is also understood that fans blocked the team bus as it attempted to make its way to the stadium from the nearby Lowry Hotel.
The incident is the latest to detail the uproar among the club's faithful aimed at the American owners of the club.
On Friday, fans angrily told outgoing chief executive Ed Woodward that they were "disgusted, embarrassed and angry" at the club's leadership, while also carrying banners at Sunday's protest which read "apology not accepted".
HAHAHAHAH pic.twitter.com/hLRQd30pLw
— Benziniho🏴󠁧󠁢󠁷󠁬󠁳󠁿🔰🥜 #GlazersOut (@BC_UTFR) May 2, 2021
We're in. Old Trafford is stormed. #GlazersOut pic.twitter.com/cuBg1xqEEz
— Gez (@Gezz_MUFC) May 2, 2021
Manchester United fans have stormed Old Trafford in protest against their owners pic.twitter.com/8XExeHwdfq
— Barstool Sports (@barstoolsports) May 2, 2021
MORE TO FOLLOW
Source: Furious Manchester United fans storm Old Trafford hours before Liverpool Premier League match in anti-Glazer protest (VIDEOS)